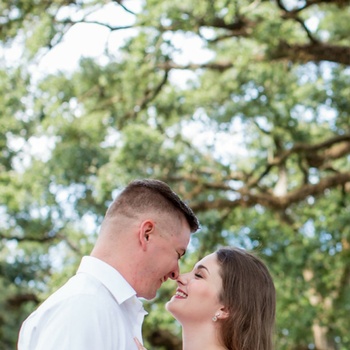 Eric and I met through mutual friends, yet our story is a bit more complicated than that. We are both from Mobile and grew up about 10 minutes from each other. We went to the same church throughout our childhood, know many of the same people, but never met.
Eric was stationed up in New Jersey while I was living in New York City. He was reconnecting with a church friend on Facebook, and my name came up. He asked if Eric knew me, to which he said no, and our friend encouraged him to reach out to me. He did, and that was it. We messaged back and forth for a few weeks before we met, but once we did, it was pretty quick. We both knew we had met "the one".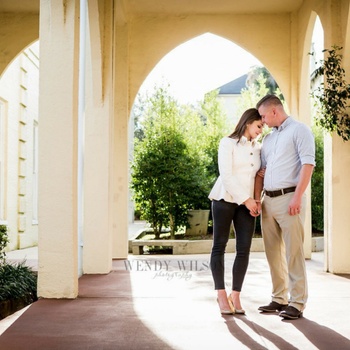 From very early on, Eric and I knew we were going to marry each other. The quote "When you know, you know." was so true for us! But Eric still managed to make the proposal a surprise.
Eric was stationed up in North Carolina for 6 months of Coast Guard aviation training. I had gone up to visit him for Memorial Day weekend. He picked me up from the airport and was a bit quieter than usual. But I really didn't think anything of it. After I checked into the hotel, he said "Can you be ready in seven minutes?" Not five. Not ten. Seven minutes. I agreed, although a bit confused, and managed to look decent (thankfully). He told me he wanted to go to a beach about an hour and a half away. It was special because you could actually drive your car along the beach. So I was excited, yet really didn't suspect anything. I did think it was odd that we had to hurry though. (I find out later he was trying to time it for sunset.) We get about 3/4 of the way there, and he stops to set up his GoPro camera on the dashboard. Again - this was a usual thing, so I didn't think anything was up. But little did I know, he had a purpose for that. :)
So we arrive on this beach and get out of the truck to walk down to the water. It is absolutely beautiful and I start to think that maybe this could be it. We stand there for about 5 minutes and he suddenly says, "Ok. I am ready to go if you are." My initial reaction was a bit irritated. I thought, "We drove an hour and a half to come and stand here for 5 minutes? I guess he is not going to propose." I was a little disappointed, but I decided to not let that ruin the moment. We start walking back to the truck (to get back into a better shot for the camera) and he starts pouring his heart out. Then he stops, kneels down and asks me to marry him. I, of course, burst into tears and said yes. I couldn't have been happier. I can't remember exactly what he said word-for-word because it was such as blur, but I remember the most important bits. It was everything you dream of hearing. We went to a beautiful dinner afterwards with a seaside view of the ocean. It was perfect. That was May 27, 2016, and we are getting married May 27. 2017.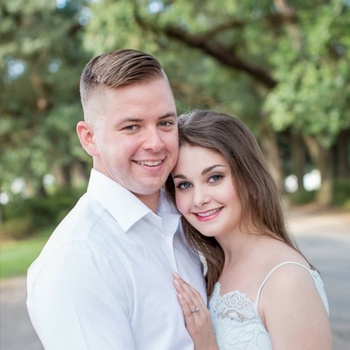 Eric and I had been messaging a few weeks after meeting through mutual friends. We then planned to have our first date at the Museum of Natural History in NYC. However, the night before, NY was hit with the biggest snowstorm it had seen in years. Eric and I now refer to that as the snow- pocalypse. The next day, Eric braved the storm and headed into the city anyway. What is usually a 1 hour commute took him 3 hours. The snow was far too bad to go anywhere (and he didn't want me to injure myself on the ice), so we just sat on my sofa and chatted for hours. There was NEVER an awkward moment. When everything finally settled down, we went for a beautiful romantic walk in Central Park. And that was that.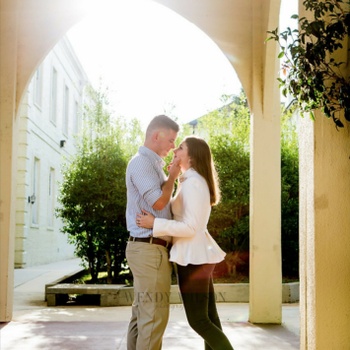 Join us as we answer your questions!